Practice Short Game Basics on a Private Putting Green in Your Yard!
Putting, chipping, and those green-side bunker shots require practice and lots of it. With a private putting green installation in your very own yard, you are not limited by the operating hours of the local golf course. Best of all, you can spend as little or as much time on the green as you like.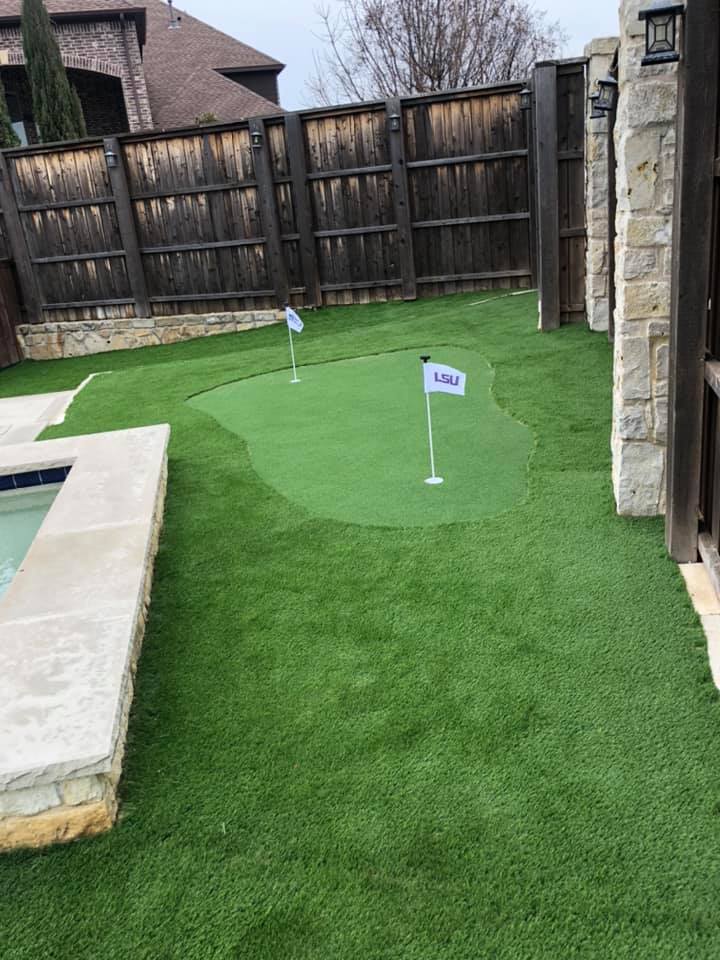 Low-Maintenance Artificial Grass Makes the Perfect Putting Green Turf
Synthetic grass needs no watering, mowing, and edging. There is no need to fertilize the green or apply any chemicals to prevent insect damage. Spend as much time on the putting green turf outdoors and never worry about grass allergies. And, when you are done, there is no need to rinse the club, balls, or shoes because of lawn clippings.
Integrating an Artificial Turf for Putting Green Use with a Backyard's Overall Functioning
You are in full control of the design your artificial turf putting green takes on. Can you commit plenty of space to the installation? Great, All American Turf Solutions technicians will customize a putting green artificial turf to be everything you want.
Does it need to share the backyard with a dog run, pool, or trampoline? No problem! We help you integrate the feature seamlessly into the setting. Best of all, you choose the turf putting green surface makeup based on the traffic it will likely experience.
An Artificial Putting Green Turf That Looks Real
You have seen putting greens that astound you. They have vibrant colors and grass that is at the perfect height. No matter how much use they get, these greens look fantastic and ready for the next chipping practice. What you are looking at are expertly installed examples of synthetic putting green turf.
Realistic performance. The putting green's artificial turf perfectly mimics the ball roll and bounce it would experience at the golf course.
Inexpensive. Keeping up with the maintenance of a real-grass putting green is labor-intensive and expensive. Even just one small fertilizing or weed-killing mistake can render the green unusable. With outdoor putting green turf, this will not be a problem.
Color choice. Which type of artificial grass is right for your yard? What color play would look fantastic with your other landscaping? Could the bright green of Fescue be right for you?
Quality craftsmanship. Today's outdoor artificial putting green turf is a work of art. An optional brown thatch layer mimics the look of real sod. Slight variations in grass blade color tones make the turf look precisely what it takes the golf course operator hours to produce each day.
Learn more about a private putting green installation for your yard. Discuss blade height, colors, tuft bind, and design details with the specialists. Contact All American Turf Solutions today!