Thanks to the temperate climate, Texas has the perfect weather nearly year-round for outdoor dining, playing, relaxing, and socializing. Passionate about creating beautiful, functional, and fun outdoor spaces, All American Turf's founder Justin Bates decided to build a business around the fast-growing artificial turf industry. Given his combined 10+ years of professional golfing history, it's a perfect fit! Bringing invaluable personal experience to your dream plans, whether golf-purposed or intended to satisfy a variety of other desires, you can count on All American Turf to design and install the perfect artificial turf landscape for your home or business.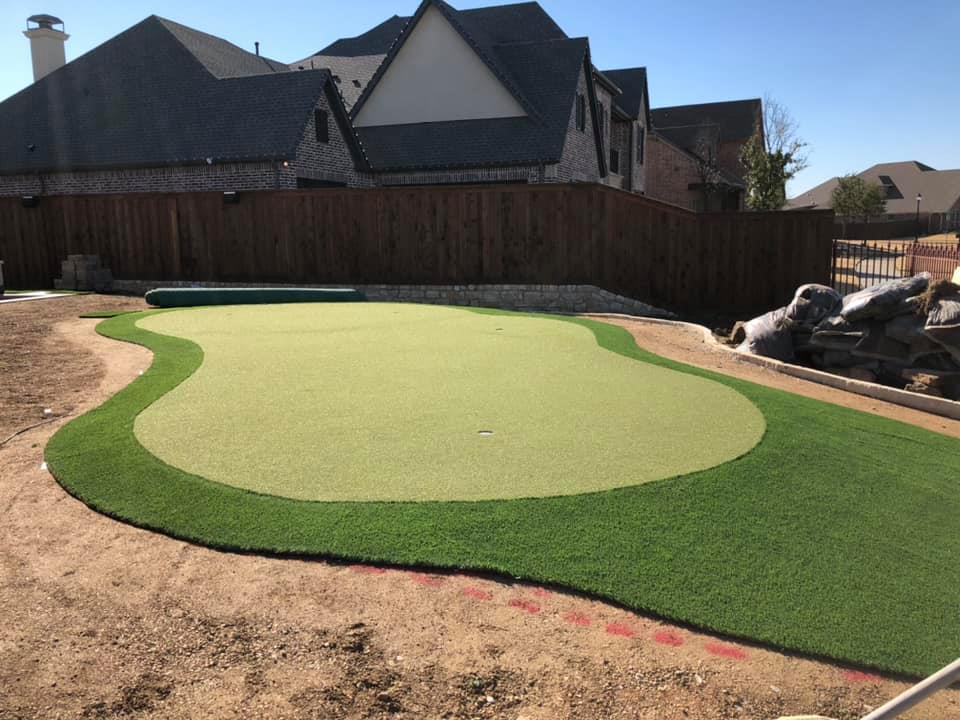 Not The Turf You May Remember
If your concept of artificial turf is tied to your childhood memories of tackling that Putt-Putt Golf course, get ready to be wowed. Today's artificial turf is designed to withstand the elements without fading, shifting, or lifting. It will effectively filter water and debris (yes, dog poop, too). Best of all, it creates the perfect surface for placing outdoor dining sets and other furniture – and, of course, bare feet!
Whether you're drawn to its evergreen appearance or its practical grooming features, you'll wind up loving both aspects of artificial turf. It creates:
a vibrant, all-season lawn.
an opportunity for those with allergies to enjoy all that is grass without the itch.
the perfect ground cover for a densely shaded area.
a tidy, grass-clippings-free, evergreen ground cover by pools, spas and fountains.
a practical and beautiful courtyard base.
a clean, even, and mow-free foundation for outdoor dining or lounge furniture.
a functional pet potty area, sans the mud and the draw to dig.
the ideal outdoor commercial playground base.
a year-round spot for playing football, baseball, soccer, freeze tag, duck-duck-goose….you get the picture here.
of course, an enviable backyard putting green!
Quality Products, Expert Installation & Top Notch Customer Service
All American Turf Solutions's passion for the outdoors shows up in the work we do. It begins with careful planning built around the vision and needs of the client. Computer-Aided Design (CAD) drawings are utilized when necessary to enable full visualization of the project before any work commences. We've carefully vetted the products available on the market in order to offer you the top solutions for your space and budget. Understanding that preparation is key to the final outcome, you can expect our installers to take the time necessary to prepare the ground for the turf. Throughout the process, you'll receive attentive, knowledgeable customer service because the team at All American Turf Solutions is just as excited as you are to see your final artificial turf project in action.
Check out the artificial turf gallery for inspiration and contact All American Turf Solutions today to discuss your vision for your home or business.