If no one's let you in on the secret yet, we're here to tell you – artificial turf is the ideal potty solution for those of us lucky enough to have a dog. Not only does artificial grass give you a lush, green turf year-round, it also solves for many of the traditional lawn challenges pet owners face. All American Turf Solutions designs and installs pet-friendly artificial grass surfaces that deliver both aesthetic and functional benefits to home and business owners.
Pet Owner Advantages With Synthetic Grass
When Fido goes out to do his business, you're left to deal with the business of:
dirt
mud, if it's rained
temptations to dig
urine killing the grass
poo killing the grass
frequent tread killing the grass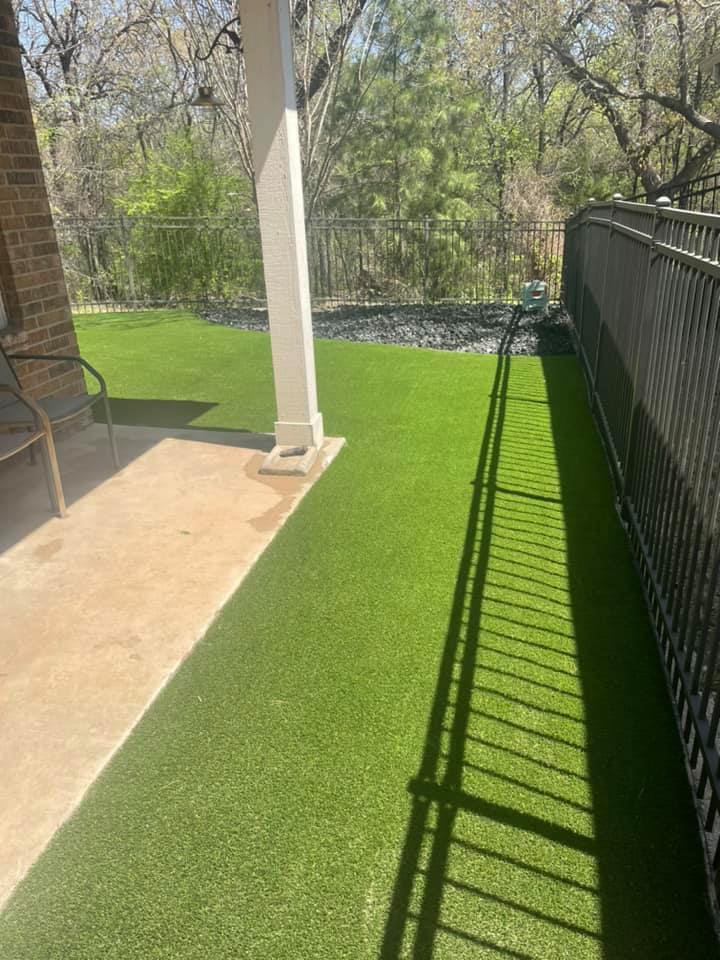 Synthetic pet turf has a porous backing so pet urine washes through. Unfortunately, no, they haven't come out with a pet turf that will pick up the poo. Many clients will rinse their turf after removing the waste to keep things fresh. Like the urine, the water used to rinse the poo will flush through the porous backing. No puddles. No mud.
Best of all, because artificial turf requires no mowing or edging, you'll have more time to play catch and frisbee.
Pet-Friendly Infill Makes the Difference
Artificial turf infill keeps the blades of grass upright and provides overall structural integrity for the surface. Infill is applied to the turf as the final stage of turf installation. There are numerous infill options, many designed to support specific turf uses. Pet-friendly infill is smartly designed to withstand all things dog. We recommend pet-friendly infill products, including Envirofill, for all of our four-legged clients. This is because it:
does not hold heat.
is manufactured with microbial agents designed to prevent bacteria and mold growth.
is highly durable and will stand up to scratching and digging.
does not become compacted with heavy tread.
does not leach any type of chemicals or toxins.
does not cling to fabric or fur.
Pet turf is the perfect solution for dog parks, doggie daycares and homes with dogs. All American Turf Solutions services both residential and commercial clients. Interested in pet turf for your home or business? Contact us today to get started.