Artificial Grass Putting Greens
All American Turf Solutions owner Justin Bates has spent his fair share of time on golf courses. In fact, it was his professional golfing experience that fueled his interest in the turf industry in the first place. He decided to take his knowledge of golf and artificial turf options and put it to work designing and installing residential and commercial putting greens, which are some of his favorite turf projects.
We Take Your Vision and Make it Happen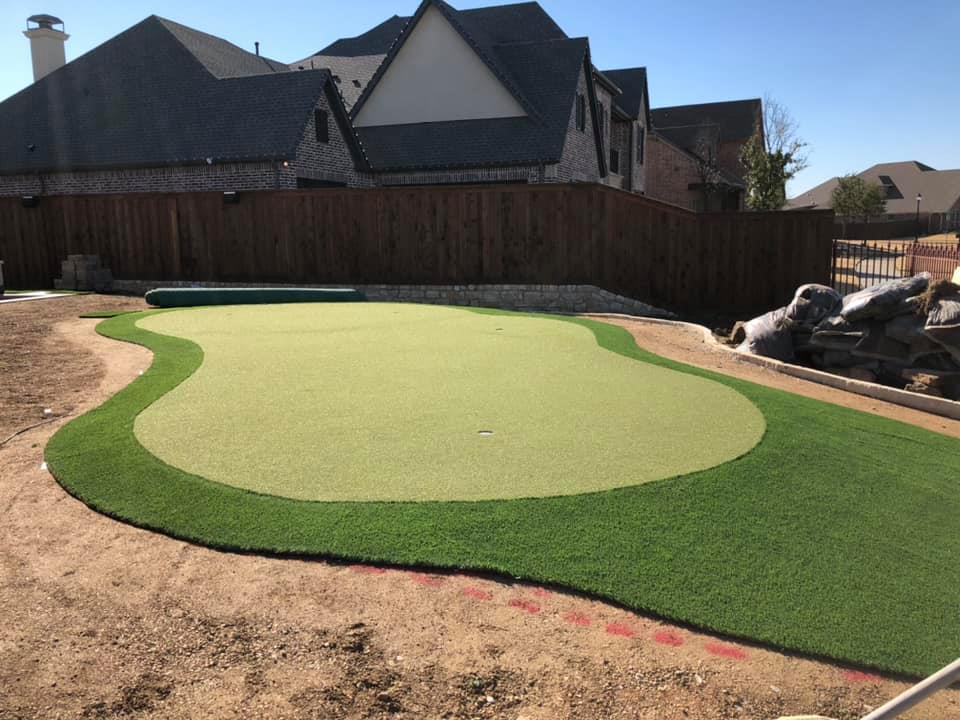 All American Turf Solutions designs putting greens to match each client's vision and unique needs. They work with all types of terrain and will surprise you with what they can do with limited space. With professional CAD drawings, you can clearly visualize your putting green in your space before installation. Whether you're looking to create a fun space to play or are seeking to improve your game, an artificial turf putting green is the perfect solution.
Drive. Putt. Fore!! Here are some basics to mull over as you consider your green:
A basic putting green typically features a stretch of green, with possibly a few curves and maybe a valley.
Hills and terrain changes deliver incremental golfer challenges.
Putting greens can be designed to be playful or skill-building, or anywhere in between.
Though All American Turf Solutions can level out uneven terrain, many clients choose to work with what they have to most closely mimic what might be found on a natural, full-sized golf course.
Don't let a tight space deter you from installing a putting green. Tight turns and curves will help you improve your game and entertain your guests.
One great thing about artificial turf putting greens is their flexibility post installation. It is relatively easy to, say, insert a hill or bring in a sand trap down the road. Your putting green can grow with your game, your business' evolution, your family's life stages or however your golf interest evolves.
Putting Green Grass Types and Infill
Having carefully vetted the putting green turf options available on the market today, All American Turf Solutions uses a top-tier putting turf designed to imitate the traction and glide you'd experience on a natural green. Best of all, it comes without the need for costly, labor-intensive and skill-required routine maintenance. This means you'll have more time to spend on your swing.
Some thoughts on the putting green turf:
Bent-grass styled turf is common on putting greens.
Golf enthusiasts might opt for slit-film turf which closely mimics the natural grass of premier golf courses.
Some choose to put the taller, fringe grass on an area of the green to practice chipping in addition to putting.
We can install turf specifically designed for tee boxes.
The All American Turf Solutions professionals will guide you through the turf options available to ensure you get the product that suits your needs.
Artificial turf infill is a key component of the overall putting green. The infill is what keeps the blades of grass upright and provides important overall structural integrity for the putting green. Infill will be applied to the turf as the final stage of the putting green installation. Some thoughts on the infill:
Infill will influence ball control and speed.
Green-tinted sand or a sand/silica mixture are the most popular putting green infills.
If added cushioning is desired, crumb rubber infill may be combined, or used exclusively.
Artificial Putting Greens
Considering your anticipated putting green usage, foot traffic, exposure to the elements, golfing skill level, ultimate goals for the green, etc., you and your All American Turf Solutions expert will walk through the best infill choice for your putting green.
All American Turf Solutions's passion for golf shows up in the putting greens they deliver. You can count on knowledgeable consultation and expert installation. Ready to put your swing in action? Contact All American Turf Solutions today.