Artificial turf takes playgrounds to the next level. Champions of play time, All American Turf Solutions designs and installs turf surfaces for residential and commercial playgrounds. More and more businesses and homeowners are ditching the fussy, high-maintenance, costly-to-maintain natural grasses for smart synthetic ground cover. Its thick, evergreen appearance is certainly a draw, but it's all the functional benefits of using artificial turf on playgrounds that truly seals the deal.
Why Your Playground Needs Artificial Turf
Because artificial turf never goes dormant, a turf-based playground stays green, sound, and in-tact all year long. No more wear down under the swings and no muddy puddle waiting at the end of the slide. No hassle with stubborn shaded areas or high-traffic runs. Got allergies? No problem! Go ahead and roll away, lie down in the sun for a snooze or have a picnic – blanket optional. In fact, you'll have more time for that snooze because there'll be no mowing, edging or fertilizing on your to-do list when you've got this turf under foot.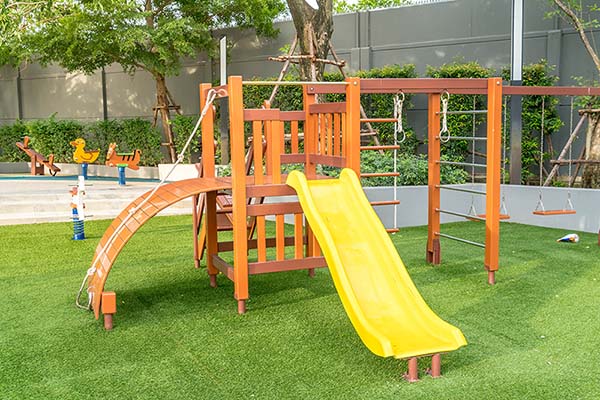 Turf infill is what keeps the individual blades of grass upright. Moreover, it provides structural integrity for the overall surface and protects the porous backing. Infill is applied to the turf as the final stage of turf installation. There are numerous infill options available, many designed to support specific turf uses. These include:
Crumb rubber – the most common form of turf infill. It is made from used automotive tires that are ground into small pieces. Many turf sports fields have crumb rubber infill. Proven safe for children and pets, this infill is a popular choice for playgrounds given its durability.
Sand – a popular infill for turf putting greens (link to putting greens page) because it delivers excellent glide and ball control. Sand generally lasts longer than crumb rubber and is less likely to be carried away by foot traffic over time.
Silica-sand mixture – also popular for putting greens as well as playgrounds. Silica will not pack as tightly as sand so the addition of silica will make for a softer surface than sand alone will.
Envirofill – considered one of the best infills for playgrounds given its Microban technology, which breaks down bacteria and prevents odors. Additionally, this infill doesn't retain heat so the turf surface will not heat up in the sun.
Your All American Turf Solutions tech will walk you through the benefits of each infill option and help you choose the best solution based on your playground's intended use(s) and your budget.
Want to play year-round sans the soggy mud, unsettling dirt and itchy grass? Don't want to spend your time and money on lawn mowing and edging? Playground turf is your solution, and All American Turf Solutions can deliver the solution. Contact us today to get started.