Playground Turf with Envirofill is Ideal for a Children's Backyard Play Space
Natural grass looks great – if you have the time and commitment to maintain it. Moreover, proper tending may require you to keep children away from newly seeded areas or fertilized spots. With playground turf, your yard looks green and lush without any effort and the play space is always open. Best of all, Envirofill helps keep it that way!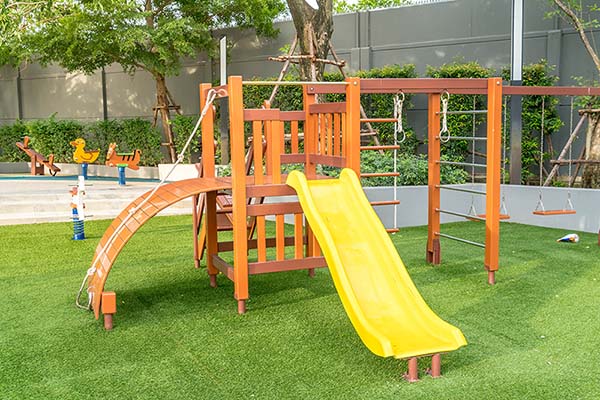 Playground Turf Opens the Space for Year-Round Fun
The turf does not go dormant, is not subject to sun damage, and will not wither because of a lack of water. High-traffic areas do not turn into bare soil, and there is no worry about grass allergies. The surface remains the same throughout the year with a minimum of care.
Envirofill is the Infill that Makes the Turf Even More Child-Friendly
Infill is the substance that keeps the artificial grass blades upright. There are different options. For example, sand is popular for putting greens because it supports the glide of the ball. Crumb rubber is a favorite of sports fields owners because it supports frequent, hard use.
However, parents are eyeing Envirofill as the best choice for their playground turf uses.
It is dust-free, which is important to parents of younger children.
Besides that, its rounded shape is comfortable on bare feet.
The individual components are encapsulated in plastic that uses Microban's antimicrobial technology. Therefore, it breaks down bacteria.
Excellent drainage prevents compacting and allows for spot cleaning in cases of spills.
Envirofill does not retain heat, which is great news during the dog days of summer.
Avoid Messy Grass with Playground Turf Featuring Envirofill
When you are ready to provide your children with a fantastic play area this year, consider that now is the perfect time to schedule a design consultation. This is also an excellent time to learn more about Envirofill. Contact us today to set up your appointment!