Diverse Applications of Artificial Turf: Sports, Pets, and Playgrounds
Artificial turf has revolutionized the way we think about landscaping and surface applications. It offers a highly versatile, durable, and low-maintenance alternative to traditional grass, making it an increasingly popular choice in a variety of contexts. At All American Turf Solutions, we're here to provide an insight into the wide range of artificial turf applications – from sports fields to pet areas and playgrounds.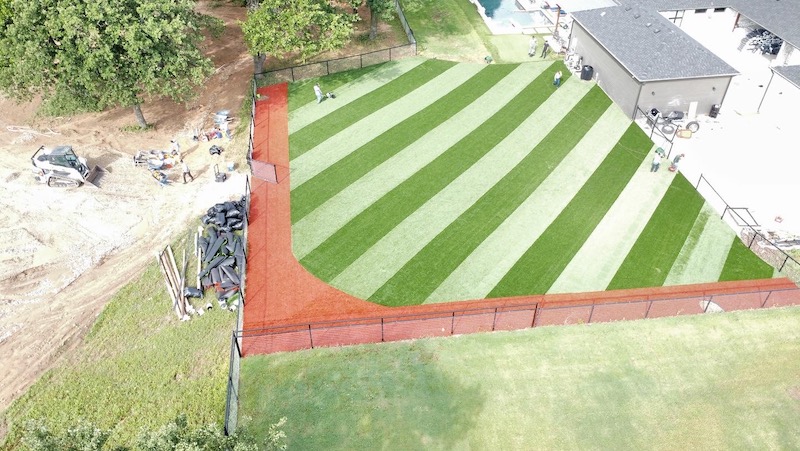 Sports Fields: High-Performance and Safety
When it comes to sports fields, artificial turf provides a uniform and consistent surface, offering excellent traction, predictable ball behavior, and minimal risk of injuries. Whether for football, soccer, tennis, golf, or even cricket, artificial turf is designed to withstand high-intensity use and adverse weather conditions. Its durability means less downtime for maintenance and repairs, allowing more time for the games to be played.
Pet Areas: Hygienic and Easy to Clean
Artificial turf is an excellent choice for pet owners. Not only does it resist the wear and tear from your furry friends, but it also helps to maintain a cleaner and more hygienic environment. Artificial turf is resistant to stains, easy to clean, and prevents the formation of muddy patches. Additionally, it deters pests such as ticks and fleas, contributing to a safer space for pets to play.
Playgrounds: Safe and Vibrant Play Spaces
Safety is paramount when it comes to children's playgrounds, and artificial turf delivers just that. It provides a cushioned surface that reduces the impact of falls and helps to prevent injuries. Unlike natural grass, artificial turf doesn't turn into a muddy mess after rain, keeping kids clean while they play. Moreover, artificial turf's bright, lush green look adds a vibrant aesthetic to any playground, inviting children for a fun time.
Residential Landscaping: Green All Year Round
For homeowners who want a pristine lawn without the constant mowing, watering, and fertilizing, artificial turf is the answer. It remains lush and green all year round, with no bare patches or brown spots. It's perfect for all types of residential applications including backyards, patios, rooftops, and even indoor areas.
Commercial Landscaping: Low Maintenance and Cost-Effective
Commercial properties can benefit from artificial turf's low-maintenance and aesthetic appeal. It's ideal for areas with high foot traffic, as it retains its look and feel under constant use. From office complexes to retail spaces, artificial turf can significantly reduce landscaping costs while enhancing the overall visual appeal of the property.
Event Venues: Versatile and Attractive
Artificial turf can be used in a variety of event venues, such as outdoor weddings, concerts, and corporate events. It offers a clean, attractive surface for guests to walk or dance on, and can easily be rolled up and stored once the event is over.
In conclusion, the applications for artificial turf are as wide as they are varied. Its numerous benefits make it a practical and aesthetically pleasing alternative to natural grass in virtually any context. At All American Turf Solutions, we provide high-quality artificial turf solutions tailored to your specific needs, ensuring you get the perfect fit for your project. Whether it's a sports field, pet area, playground, or something else, let us help you discover the benefits of artificial turf. Contact us today to get started!