Looking for artificial turf installation in Bartonville, TX? All American Turf Solutions is your synthetic grass solution. No longer just for golf courses and putt putt, home and business owners are finding that artificial turf is the perfect solution for attractive grass and low maintenance year-round. Today's artificial turf is designed to withstand the elements without fading, shifting, or lifting. It will effectively filter water and debris, including pet waste. Synthetic turf is perfect for Bartonville homes, businesses, sports fields, pet areas, playgrounds, and putting greens (of course)!
So Many Ways to Enjoy Synthetic Grass
The moderate Bartonville, Texas weather provides year-round opportunities to enjoy the outdoors. But your backyard may not. Patchy, weed-filled, un-level, or muddy yards offer little enjoyment and require time-consuming maintenance. Artificial turf offers the perfect surface for outdoor furniture, an evergreen appearance, and practical grooming features:
a vibrant, all-season lawn.
an opportunity for those with allergies to enjoy all that is grass without the itch.
the perfect ground cover for a densely shaded area.
a tidy, grass-clippings-free, evergreen ground cover by pools, spas and fountains.
a practical and beautiful courtyard base.
a clean, even, and mow-free foundation for outdoor dining or lounge furniture.
a functional pet turf area, sans the mud and the draw to dig.
the ideal outdoor commercial playground base.
a year-round spot for playing football, baseball, soccer, freeze tag, duck-duck-goose….you get the picture here.
of course, an enviable backyard putting green!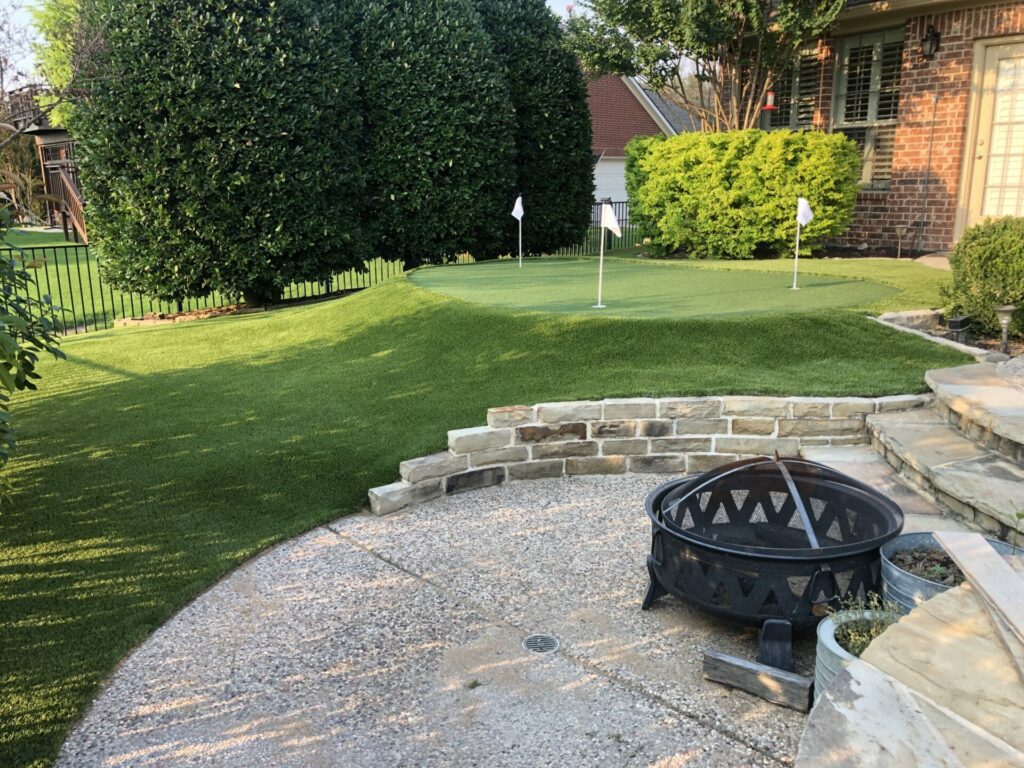 FIND YOUR PERFECT BACKYARD
Advantages of Artificial Turf in Bartonville
Maybe you've been wrestling with your weed-filled lawn for years. Maybe every Bartonville rainstorm means mud and grass tracked into the house. Maybe you've been considering your options. You should know that there's a lot that you won't have with artificial grass. You won't have high water bills in the summer when your neighbors are watering daily to keep a few yellow blades of grass alive. You won't have weekends filled with mowing, edging, bagging and other yard work. You won't have fertilizers or chemicals in your yard. You won't have kids, pets, or guests tracking in dirt, mud, or other debris. You won't have a sneezing fit when you walk out your door. You won't have to watch the lawn on which you've spent so much time and money sprout more weeds or develop more dead spots. Find out what you won't be missing with All American Turf Solutions!
Bartonville, TX Artificial Turf Uses
Artificial grass has so many applications. Our Bartonville, TX customers frequently use synthetic turf for: